Beskrivning
Confidex Xenon M4E transparent UHF RFID tagg för bilstrålkastare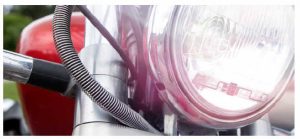 A headlamp is a demanding place for an AVI label. It must endure chemicals and sunlight as well as infrared radiation. It must be tamperproof and readable from a long distance – quickly and reliably. And all this without blocking the light.
Confidex Xenon™ is an RFID label developed for headlamp use in cars and motorcycles, but the product lends itself nicely for windshield use as well. It successfully combines small size and excellent tamperproof properties with high performance and reading distance.
Doesn't obstruct the beam
When something is put on a headlamp, you don't want it to block your light. Small, slim and transparent Confidex Xenon™ doesn't compromise your visibility. The antenna is as slim as possible.
Can't be tampered with
An AVI label is always susceptible for theft attempts. Confidex Xenon has excellent tamperproof characteristics – it breaks on removal and can't be transferred to another vehicle.
Endures the elements
An RFID label must face anything from car wash to rain and sunshine. Confidex Xenon™ has all its materials tested for chemicals, high temperatures and exposure to UV light.
IR protected
The infrared radiation from the headlamp light beam can compromise the performance of a conventional RFID tag. Confidex Xenon™ is protected against IR radiation.
Latest chip technology
Featuring the latest generation Impinj Monza 4E chip, Confidex Xenon™ performs reliably and predictably. The chip boasts a large EPC memory, which enables longer codes. This means simpler implementation and flexibility to data handling.
PRODUKTBLAD:  Xenon_Datasheet