Beskrivning
Omni-ID® Adept 360° UHF RFID-tagg – hängtagg
HängtGGEN Omni-ID Adept 360° är en tagg för de miljömässigt mest krävande användningsområdena. Taggen är inkapslad i en ram av stål för att möta de tuffa kraven inom bl.a. olje- och gasindustrin. Finns även i ATEX-godkänd version.
Denna typ av RFID-tagg benämns HÄGNGTAGG då den främst är avsedd att hängas på lina eller krok.
Order Numbers: CP08494-01, CP08855-01
Adept 360
The Omni-ID Adept 360° is a UHF RFID tag for the most harsh environmental applications. The tag is encased in an industrial steel frame with a tether attachment designed to meet the needs of oil and gas users and other heavy industry applications. The Omni-ID 360° is available with a range of options including a surface etching/printing finishing option and a dual technology option.
Applications
With its steel framework, 360° read angle and long read range the Omni-ID Adept 360° is ideal in heavy industry applications for tracking:
Slings
Shackles
Heavy machinery
| | |
| --- | --- |
| Construction / Finish / Material / Encasement | Steel frame |
| Size (mm) | 136.5 x 48 x 5.5 (+/- 1) |
| Size (in) | 5.4 x 1.9 x 0.217 (+/-0.04) |
| Weight (g) | 126 |
| Attachment | Tether hole |
| Dimensions | |
| Radiation Patterns | |
Radio Protocol

EPC Class 1 Gen2v2
ISO 15693 (option)

Frequency Range
Read Range – Fixed Reader
Read Range – Handheld Reader
IC Type (Chip)
Alien Higgs 3
Memory
EPC: 96 bits
User: 512 bits
Unique TID:
TSL1166 Specific
Maximum tag to cone open end distance:
Minimum distance between tags whereby reader will only detect desired tag:
Recommended read power:
Recommended write power:
Max Temperature Exposure
Long term: +120°C
Short term: +140°C
Range:
IP Rating
IP68
Shock & Vibration Tolerance
MIL-STD-810 F
Impact
25kg from 1m
 PRODUKTBLAD: Omni ID Adapt 360 UHF hängtagg
ÖVERSIKT TAGGAR i ADEPT-serien:  Omni-ID_Adept_Range_Guide.pdf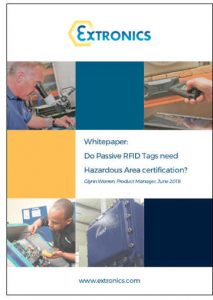 Dokument:  Do-Passive-Tags-need-Hazardous-Area-Certification-Extronics-whitepaper