Beskrivning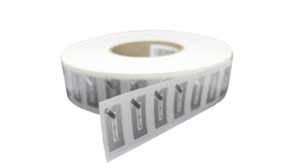 NFC Etikett NTAG213 – 8,5x17mm – Transparent PET
NFC etikett i litet format som kan läsas även med en smart telefon Etiketten är lämplig för märkning av inventarier och perfekt för ID. Taggen fungerar INTE på metall. Password-protectable.

Produktnummer: ITN-AD754
NTAG213 Stickers Technical Specifications
Integrated Circuit (IC): NXP NTAG213
Air interface protocol: ISO 14443 A
Operation Frequency: 13.56 MHz
Memory: 144 bytes
Operating temperature:  from -25°C to 70°C / from -13°F to 158°F
ESD voltage immunity: ±2 kV peak HBM
Bending diameter: > 50 mm, tension less than 10 N
Model: AD-754D NTAG213
Dimensioner
Antenna size: 16 x 7.5 mm
Die-cut size: 17 x 8.5 mm
Material
Transponder face material: Clear PET
Transponder antenna material: Etched Aluminum
Tekniska data
NFC Chip                                  NXP NTAG213
NFC Standard                        ISO/IEC 14443-A
Universal Compatibility     Yes
UID (Unique ID)                     7 bytes
Available Memory              144 bytes
Communication Rate        106 kbit/s
Encryption                             Not supported
Read/Write Endurance     100,000 cyclesData
Retention                               10 years
The NTAG213 chip is compatible with all Android 4.4+ smartphones and all iPhones 7 and later.