Beskrivning
 ANTENN UHF  långt läsavstånd – 
Impinj Far Field RHP Reader Antenna FarFieldRHP(ETSI)
eller LAIRD S8658WPL 865-960 MHZ RFID PANEL ANTENNA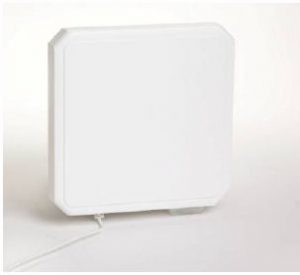 Det är samma antenn marknadsförd av IMPINJ och tillverkad av antennföretaget LAIRD. Det är en av de mest använda UHF RFID-antennerna för långa läsavstånd. Den har cirkulär polarisation och försedd med en 2,4 m fast monterad kabel med kontakt passande bl.a. IMPINJs läsare Speedway Revolution.
S8658WPR operates within 865-960 MHz and is a circularly polarized panel antenna.Laird's industry renowned design methodology achieves maximum efficiency and performance across the entire frequency band.
Both VSWR and axial ratios are both excellent and allow the user to achieve the maximum performance for an antenna of this type. The antenna is housed in a heavy duty radome enclosure that can be directly wall mounted. An optional articulating mount allows either wall or mast mounting. The antenna is offered with an integrated coax pigtail and a variety of connector types are available.
PRODUKTBLAD:  IPJ-A1000-A1001-EU1 Antenna Spec (3)-Laird far field